Beschrijving:

Makris Gialos:

Detached house with ground floor, 1st floor and 2nd floor on a plot of 1370m2. It consists of a 16m2 store room in the basement ground floor, an apartment on the first floor of about 113m2 with balconies all around approximately 43m2 and an incomplete 32m2 apartment on the 2nd floor. The apartment consists of two bedrooms plus one guest room/bedroom . All bedrooms have built-in wardrobes. It has two bathrooms. The one bathroom has a shower and the other bathroom has a bathtub. There is an open plan living area with fireplace and fitted kitchen. The property has large balconies and a veranda with wonderful sea and mountain views. There is central heating, solar panel, boiler, air conditioners and a parking area for more than 4 cars.
What makes this property unique in its kind is the garden, where you will find a wide variety of different trees such as lemon trees, peach trees, orange trees, plum trees, fig trees, apricot trees, two olives trees, pear trrs, apple trees and mandarin trees. There is also a vineyard and a viriety of herbs such as rosemary, marjoram etc .. plus there is also room for someone to grow vegetables or whatever else they want.
The property is fenced off vey well all around and has easy road access. It is located just 700 meters from Makris Gialos and from all amenities. Ideal for permanent or holiday / summer residence.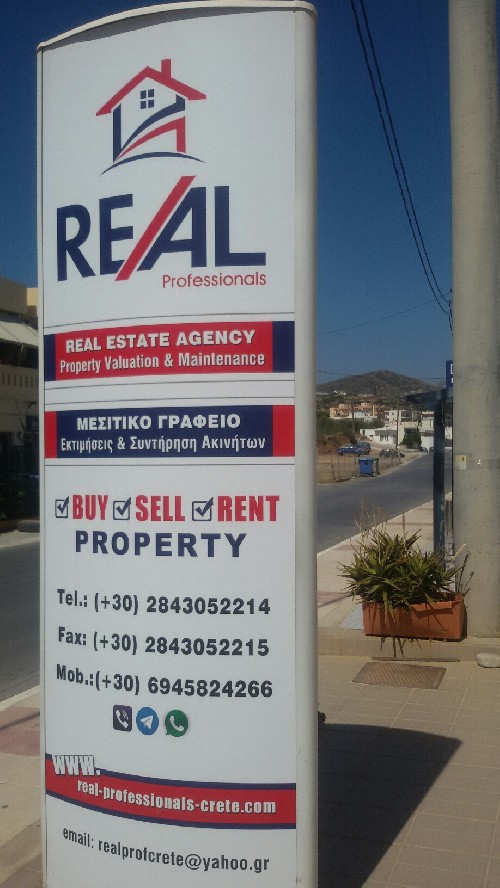 www.real-professionals-crete.com/nl Onroerend goed te koop in het oosten van Kreta Our Real Estate Office Real Professionals can quickly help you find the real estate you are looking for in Eastern Crete, in particular areas such as Makrigialos, Ierapetra, Sitia, Agios Nikolaos, Elounda and all over Lasithi. The property market is one of the most expensive "products" available today. The purchase or sale of a property, in most cases, is the result of an entire lifetime efforts. Indeed, it is one of the most important decisions/transactions that a person makes. We, at Real Professionals, with our extensive experience in the domain of real estate, can understand and fulfil all our clients` needs. in the world and are capable of offering (better than anyone else) to our clients the following services for any size of transaction: Network information and immediate sourcing of buyers and sellers Specialised and effective service of the exclusive agent in property sales Professional and prompt promotion of your property onto the market Constant research on Greek and global markets in real estate Property evaluation Absolute discretion about transactions Systems and techniques in order to protect our clients during transactions Wide choice of properties to purchase. Qualified advice on real estate investments Advice on property administration Advice on property mortgages that suit your needs, and finally but not least... The service you deserve! For any real estate needs please discuss further with our office Real Professionals. We will be more than pleased to help you! We have all kinds of properties in the region of Eastern Crete, ranging from plots of land, stone houses, renovated houses, old houses for renovation, commercial properties/businesses and many more besides. We can help you in the purchase of your desired property with ease - working efficiently with our trusted professional collaborators - lawyers, notaries, engineers and accountants. Thus making the whole purchase process a very smooth and comfortable experience. Visit our office and don't delay to purchase real estate here in Crete. Buy through Real Professionals!! Nobody sells more Real Estate than Real!