Beschrijving:

Stone farmhouse entirely rebuilt between 2014 and 2017 of about 170 sqm on the raised ground floor and 80 sqm approximately in the basement plus a cellar and a room currently registered as a garage, with a courtyard of approx. 2,000 sqm in a hilly position. Excellent quality renovation.

Location
In a hilly and panoramic position a few km from the university town of Camerino, just 2 km from Castelraimondo where it is possible to have all services. Pioraco, a village nestled between the green of the valleys and the water of the Potenza river that crosses it forming splendid waterfalls that make the atmosphere very characteristic. Pioraco is the town of paper, caves, silence and paths, reminiscent of a small mountain town where time passes more slowly. It is located in the surroundings of the Monti Sibillini National Park at 500 meters above sea level and when the temperatures on the coast get hot, here you can always find some fresh air and refreshment.

Description
Stone farmhouse on a single mezzanine floor with various rooms and cellar and technical room in the basement. An external terracotta-paved loggia leads to a beautiful living room with fireplace; from here you have access to the outside via a double ramp staircase which leads to the garden. Three steps down from the living room lead to a large kitchen with fireplace and access to two external loggias. The sleeping area consists of two double bedrooms, one with an ensuite bathroom, a single bedroom and a second bathroom. At the rear we find a storage/laundry room with independent access and a large paved loggia which gives direct access to the kitchen, to be used in the summer for outdoor lunches and dinners. From the living room, a terracotta staircase leads down to the basement rooms. The building is of very recent construction and made with quality finishes and materials. All the floors are in national walnut wooden planks with the exception of the kitchen where there is a beautiful porcelain stoneware. All rooms are very bright.

State of repair
The farmhouse is in excellent condition with fine finishes and excellent quality, ceilings in chestnut and terracotta tiles, white lacquered wooden window frames with internal shutters and external railings. The farmhouse has been entirely rebuilt by recovering the volume of an old ruin, built with an anti-seismic structure in reinforced concrete, brick blocks and exposed local stone cladding.

Utilities
The farmhouse is served by all utilities; the heating is with radiant elements in steel with a condensing boiler powered by LPG with an underground tank.

Land registry details
The Great Estate group carries out a technical due diligence on each property acquired through the seller`s technician, which allows us to know in detail the urban and cadastral status of the property. This due diligence may be requested by the client at the time of a real interest in the property.

Potential Land Use
Perfect holiday home surrounded by greenery at an altitude of 400 meters and only half an hour from the sea. In less than an hour it is possible to visit Spoleto, Assisi, Spello and you can reach the airports of Perugia and Ancona.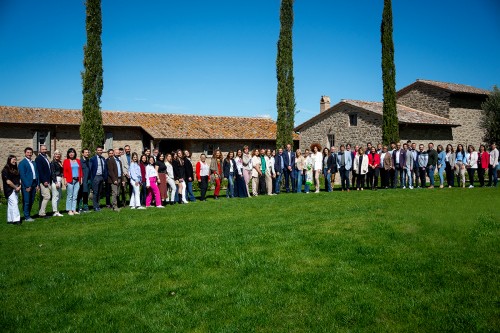 Great Estate†is an international real estate network, specialising in selling†farmhouses,†luxury estates,†luxury villas,†agricultural businesses†and†wineries. As well as coastal properties, tourist businesses and hotels. We can also advise on prestigious investment opportunities. We are located in central Italy, with our Head Office in†Tuscany. As well as having offices in†Umbria,†Sardinia,†Lazio, the†Marche,†Liguria, the areas around†Lake Como,†Lake Maggiore,†Lake Garda, and†Northern Italy. In addition to cities like†Rome,†Florence,†Venice†and†Milan.

Great Estate†has a team of property consultants specialising in the Italian property market who are passionate about the beauty and culture of Tuscany, Umbria, Le Marche and Sardinia. We also have a team of international consultants . †With our expertise we can make it easier for you to buy your luxury home.

The†Great Estate†real estate group has an international team of over 30 consultants, co-ordinated by†Stefano Petri†(Managing Director). The agency is professional, honest and successful. Its great success is due to our prestigious international clientele buying and selling our†luxurious properties.