Beschrijving:

Casale le Vigne stands on the crest of a gentle hill, facing south and with a beautiful 360-degree view of the vineyards of fine wines. Everything is surrounded by a garden of over one hectare with 300 olive trees, fruit trees and a delightful pond.

Location
Located on the top of a small hill with a 360 degree view, it is about 100 meters from the provincial road.

Description
The farmhouse is on two levels for a total of 232 sqm. On the ground floor there is an entrance hall, a living-dining area, a service bathroom and a large bedroom with bathroom; on the second floor we have a second living area with kitchenette, two bedrooms, two bathrooms and three panoramic terraces. On the back of the house there is a practical cellar room of about 20 sqm which is also used as a boiler room and for storing wood or heating pellets. Next to the main building there is an agricultural outbuilding, currently used as a warehouse of 67 sqm and a wood oven. The garden, equipped with a double entrance, measures approximately 1.2 hectares and there are fruit trees and an olive grove with about 300 trees. The house was completely renovated in 1997 and is in perfect condition.

State of repair
The floors of the ground floor and of the living area on the first floor are in Brunelleschi terracotta while in the two bedrooms on the first floor we find an olive parquet. The windows are double glazed wood. The state of maintenance is excellent and there are no works to be carried out.

Utilities
Aqueduct, electricity, LPG gas boiler. The heating system is already set up to be connected to a biomass boiler. Pond for irrigation use.

Land registry details
The Great Estate group carries out a technical due diligence on each property acquired through the seller`s technician, which allows us to know in detail the urban and cadastral status of the property. This due diligence may be requested by the client at the time of a real interest in the property.

Ownership Details/Contractual Obligation
This property has no constraints of any kind.

Potential Land Use
The property is perfect both as a first and second home given its strategic and panoramic position, close to all services and only 6 kilometers away from the village of Montepulciano.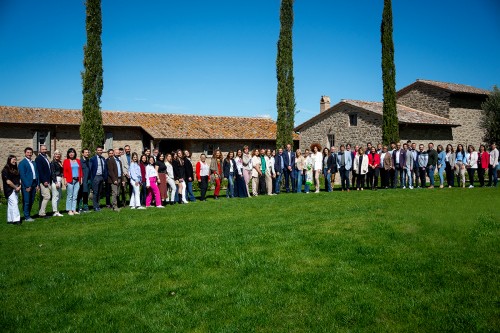 Great Estate†is an international real estate network, specialising in selling†farmhouses,†luxury estates,†luxury villas,†agricultural businesses†and†wineries. As well as coastal properties, tourist businesses and hotels. We can also advise on prestigious investment opportunities. We are located in central Italy, with our Head Office in†Tuscany. As well as having offices in†Umbria,†Sardinia,†Lazio, the†Marche,†Liguria, the areas around†Lake Como,†Lake Maggiore,†Lake Garda, and†Northern Italy. In addition to cities like†Rome,†Florence,†Venice†and†Milan. Great Estate†has a team of property consultants specialising in the Italian property market who are passionate about the beauty and culture of Tuscany, Umbria, Le Marche and Sardinia. We also have a team of international consultants . †With our expertise we can make it easier for you to buy your luxury home. The†Great Estate†real estate group has an international team of over 30 consultants, co-ordinated by†Stefano Petri†(Managing Director). The agency is professional, honest and successful. Its great success is due to our prestigious international clientele buying and selling our†luxurious properties.